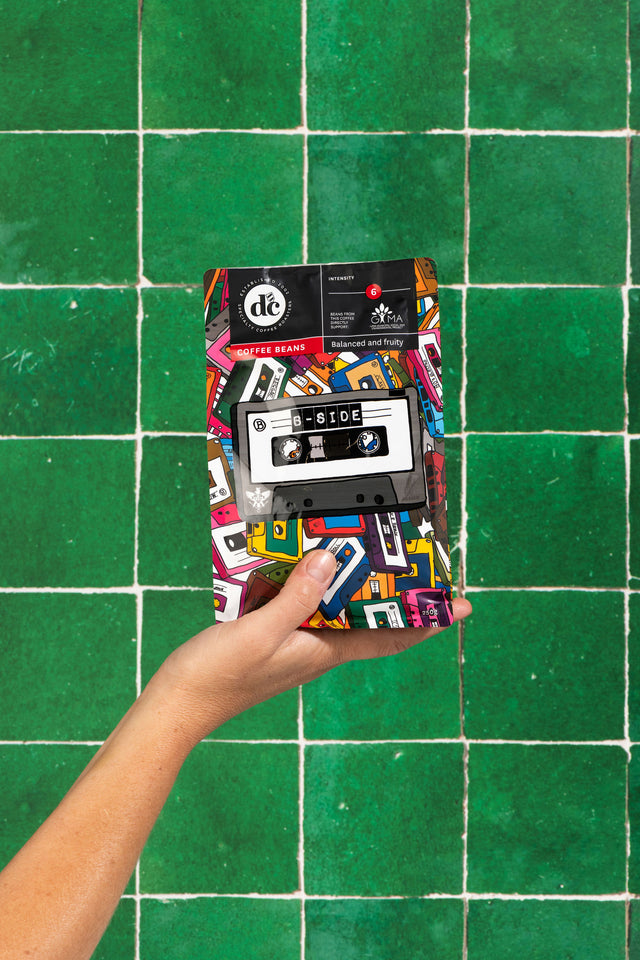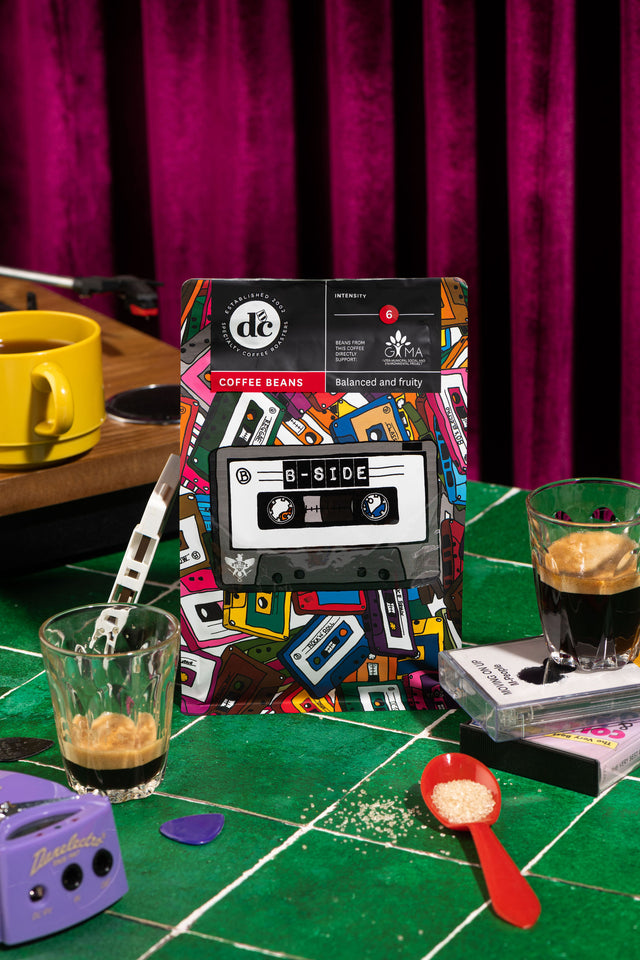 JUST LIKE YOUR FAVORITE MIXTAPE, B-SIDE IS YOUR NEW DAILY GO-TO BREW THAT WILL KICK OFF THE DAY WITH ITS SUPREME BALANCE OF FLAVOURS LIKE NECTARINE, RAW SUGAR AND ALMOND.

The coffee you'll see decorating the walls of most of our cafes, B-Side is the smooth criminal that everybody falls in love with. The ultimate crowd-pleaser, this blend is especially perfect for those who are new to DC with its mellow flavours and deliciously smooth finish.⁠

Just like your favourite vinyl record, B-Side is pleasing to all the senses. The perfect balance of sweet and nutty, it holds melodic notes of caramel, raw sugar and nectarine with a mix tape finish. Boasting a medium body with a creamy mouthfeel, it creates a strong espresso flavour that cuts through in any variety of milk. Highly recommended for that creative kick you need when finishing off your report, getting some chords down or painting/writing a masterpiece.

The term B-side is one of two sides of old-school cassette tapes. When it comes to the rad artwork, the design incorporates crazy colour choices and tape placement, throwing it back to the weird and wonderful process of creating music.

If you've had a cup of B-side in the last few years, you've helped support over 50 music artists and live music venues in Melbourne and Sydney. From putting on live gigs to helping artists with recording and pressing albums, B Side helps give back to the arts community.

Origins
Colombia, Brazil Labareda and Sao Silverstre Brazil
In the cup
Flavour: raw sugar, nectarine and almond
Aroma: stone fruit and cocoa
Acidity: medium
Roast: medium