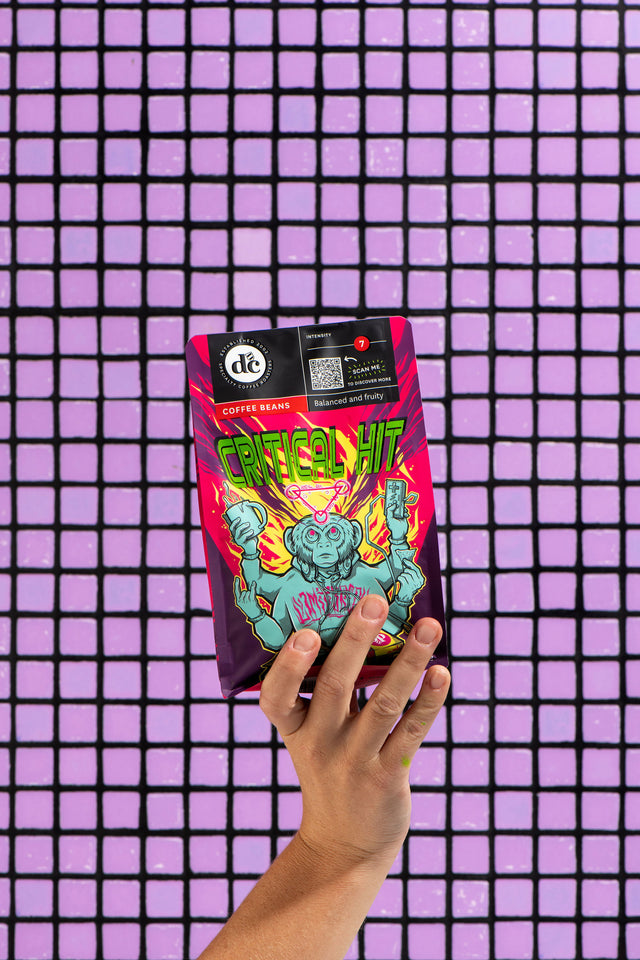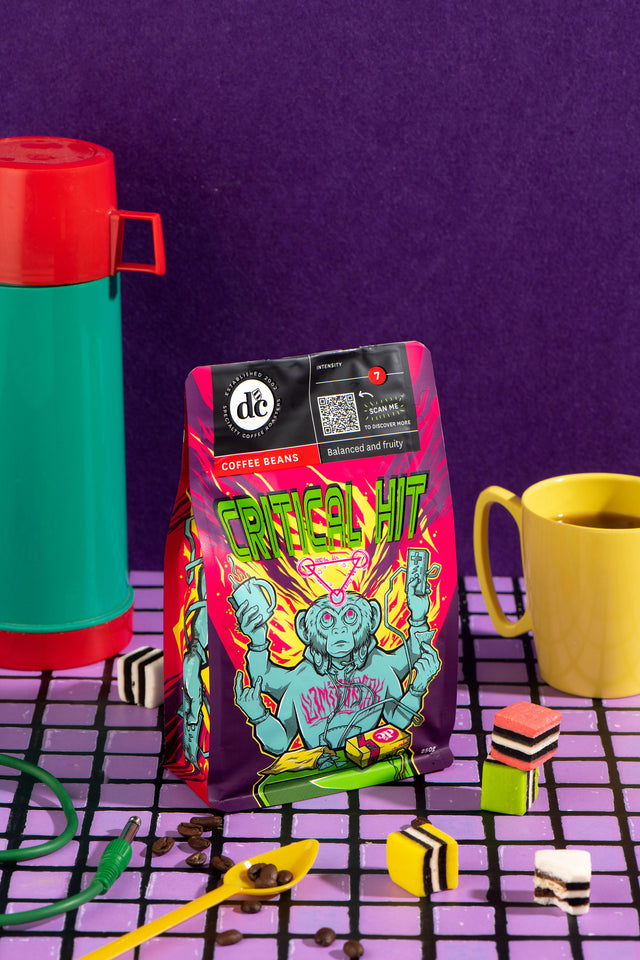 Critical Hit - House Coffee Blend

PRESS START... LOADING... CRITICAL HIT IS THE META PRE-GAME RITUAL THAT WILL MANIFEST YOU TO THE NEXT LEVEL BOTH DIGITALLY AND MENTALLY. 
Created in collaboration with Australia's leading gaming publisher Electronic Arts or EA, this unique blend is designed by gamers, for gamers. EA's Firemonkeys Studio, based in Melbourne, has become synonymous with bringing the greatest, most innovative entertainment experiences to mobile game players.
The Critical Hit brand features iconic packaging designed by Melbourne-based mixed media artist LIMITBREAK. A stalwart of both the gaming and artistic community, LIMITBREAK was a no-brainer when it came to choosing someone to visually represent this hectic gaming blend.
His vibrant, outlandish design was inspired by the concept of critical hits and the rituals in gaming culture. While in-game critical hits are usually RNG, the tactics used to gain that edge—or critical hit—aren't random at all. Every player has their ritual. This pursuit of an edge transcends games and eras; it unites across platforms, consoles and genres.

Whether it's your late-night bean juice or an early morning kick start, this balanced and fruity blend will power up your play so you are ready to dominate the digital arena.
It's a classic house blend with a light roast, suiting most milks and brewing methods.

Origins
Colombian La Orquidea, Brazil Labareda and Ethiopian Yirgacheffe Adado

In the cup
Flavour: complex with notes of florals, ripe stone fruit and milk chocolate
Aroma: nutty and fruity
Acidity: balanced acidity
Roast: light - medium